Call Of Duty WWII (PC REVIEW)
THE GOOD
Singleplayer is emotional and ultra intense
Music and sound effects are incredible in this game
Takes Call of Duty back to it's roots with a new gameplay experience
THE BAD
War Mode needs more maps
AI enemy lack, especially in sneak scenes
CALL OF DUTY WWII
Growing up with Call of Duty on the 1st PlayStation it's a honor to play this game back to it's original roots. With big expectations I start playing this game and I must admit, playing it with a 500W RMS 5.1 surround system on volume 'fck the neighbours' the game really came to life. And, for the most part, it delivers a well rounded package with multiplayer benefiting most from a clearer palette of gear and options that make maps and clashes more accessible and enjoyable than they've been in years.
OUR TEST SYSTEM
SINGLE PLAYER STORY CAMPAIGN
Call of Duty: WWII's single player campaign salutes the brotherhood that grows and strengthens on the battlefield. Personally this is gives the game so much power.. for example on one moment your are in battle and one of your brothers gets shot laying on the ground in clear eye-field of the enemy, at this point you have choose to safe his life or let him die in front of your eyes. Another moment is when the enemy capture one of your team members and you are able without hesitate to shoot the baster in the head before he gets the change to kill your mate.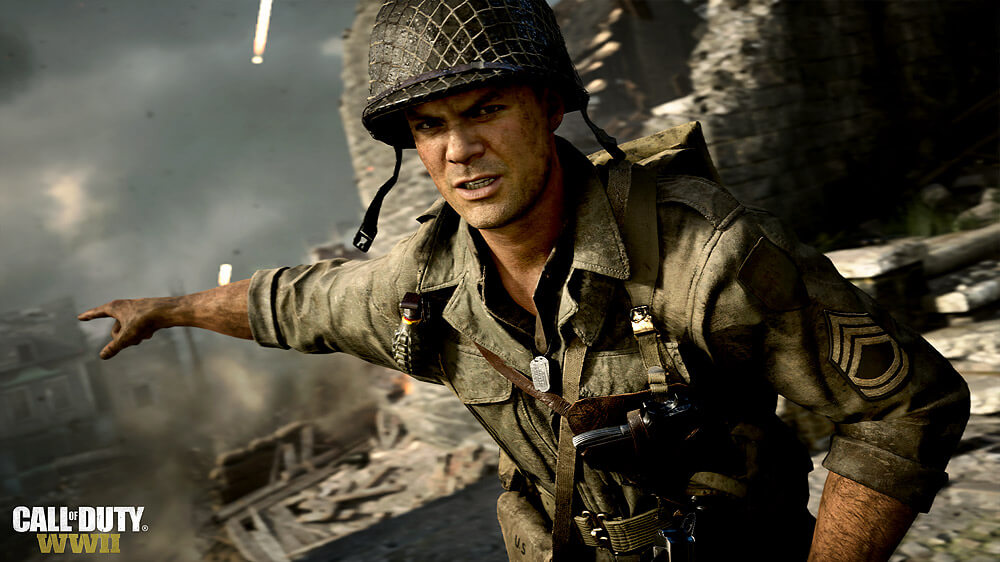 Moreover, this theme is cleverly tied to a game-play mechanic where you rely on your company for resources. Seen through the eyes of an American soldier and a few other Allies, this affecting story offers brief glimpses of how the Nazi occupation ravaged Europe and its people, including German civilians.
Anyway as you probably already know COD WWII is a first-person shooter set during the journey from Normandy to The Rhine isn't unique, but you haven't quite experienced anything like the tour of Ronald Daniels and the 1st Infantry Division in Call of Duty: WWII. It's a substantial, six-plus-hour trek where intense close-quarters combat complements spectacular showcase events, brought to life through excellent visuals and sound design.
The booming cacophony of gunfire is fittingly accompanied by the crispness of the weapon reloads. And if you ask me the sounds are one of the best that I've ever heard in a game. I even shot a few round to hear the sound of the reloading of the in-game wapen again. It's just so incredible good!
It's a journey rich in scenic environments that poignantly contrast against the death and destruction that surrounds you.
SINGLE PLAYER GAME STYLE
BLOCKBUSTER WWII ACTION
Call of Duty: WWII features the epic scale, cinematic moments and intensity that only Call of Duty delivers, all set against the backdrop of the largest global conflict in history. The game redefines World War II for a new generation, delivering an experience that was not possible on previous systems.
CAMERADERIE
Featuring a global cast of characters across Europe, players will follow the gripping story of Ronald "Red" Daniels, a member of the US 1st Infantry Division, as they trek through the harrowing European theater of war. Joining Allied forces from the U.K. and the French Resistance, across the beaches of Normandy, to the liberation of Paris and ultimately into Germany, the squad must fight alongside a global and diverse cast of characters to achieve victory. The story campaign delivers the gritty authenticity and cinematic intensity of WWII combat, honoring the unforgettable heroism of those who fought in World War II.
AN IMMERSIVE GAMEPLAY EXPERIENCE
Call of Duty: WWII brings to life some of the most iconic moments of World War II, including the D-Day Invasion of Normandy, liberation of Paris and the Battle of the Bulge, with incredible visuals and awe-inspiring sound that puts players in the middle of the action.
MULTIPLAYER
Call of Duty: WWII Multiplayer marks an exciting return to the franchise's World War II roots and combat that defined the franchise. Prepare for fast-paced, grounded action with an arsenal of iconic weapons and equipment in the fight to liberate a continent in the throes of tyranny. Call of Duty: WWII immerses players in the brutal gameplay of history's largest conflict.
Call of Duty: WWII Multiplayer offers players true franchise innovations across the entire experience with brand new ways to connect, compete and engage as a community. Divisions redefines how players develop their WWII Multiplayer Careers by enlisting in five iconic WWII-era divisions. War Mode lets players compete against each other in team-driven, objective gameplay. And Headquarters is a transformational new experience that will connect players like never before.
MULTIPLAYER DIVISIONS
Divisions fundamentally redefines how players invest in their Multiplayer career. This is a reimagining of the create-a-class system, and players will choose from five iconic World War II divisions each with specific division training and division weapon skills. This streamlined approach to Multiplayer gives players the ability to reinforce their individual play styles while dominating the enemy in some of the most iconic locations of the world's largest conflict.
Airborne Division
The first to the fight, the Airborne Division moves fast and stays quiet, armed with undetectable silenced SMGs
Mountain Division
Death from a distance, the Mountain Division, with their sharpshooter focus and sniper rifles, is precise and deadly
Infantry Division
Extremely versatile, the Infantry Division is equipped for mid to long range rifle engagements and up-close-and-personal bayonet charges
Armored Division
Bringing the heaviest firepower, the Armored Division is armed to the teeth with explosives and LMG firepower
Expeditionary Division
Packing heat, the Expeditionary Division is well-equipped with incendiary rounds and shotguns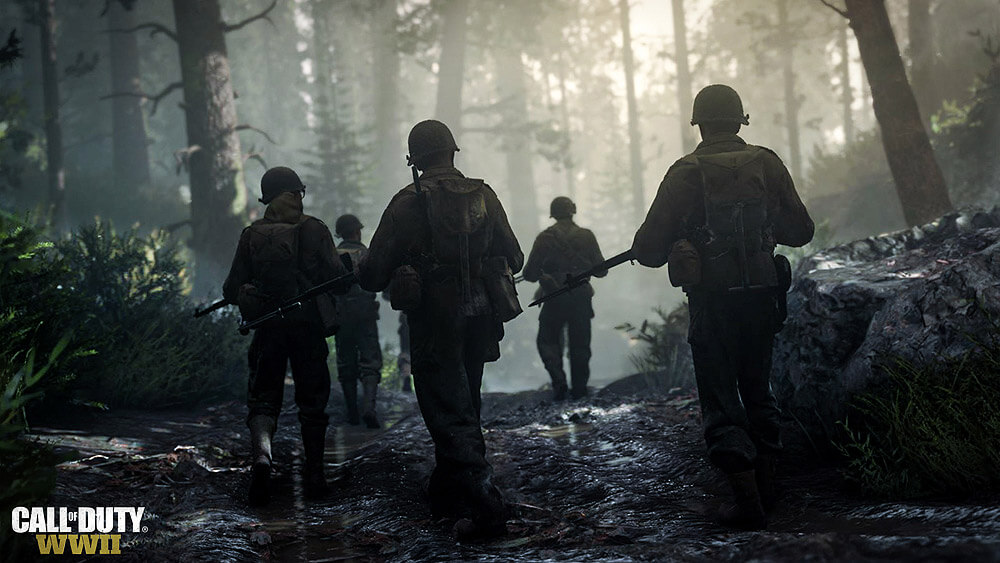 WAR MODE
War Mode is an all-new game mode where players must work as a team to defeat the enemy. This narrative-driven Multiplayer experience, developed in partnership with Raven Software, immerses players in iconic World War II locations. Allied and Axis forces clash in team-driven assault and defend missions for key strategic objectives.
HEADQUARTERS
Headquarters is an all new off-the-frontlines experience for Call of Duty players. Players will compete, earn rewards, show off their accomplishments, and connect with fans and friends. Unlike anything experienced in Call of Duty to date, Headquarters transforms the Multiplayer experience by redefining how players engage with the game and with each other.
BOOTS ON THE GROUND GAMEPLAY
Multiplayer marks a return to iconic boots on the ground Call of Duty gameplay that fans know and love. This return to classic combat makes for more strategic, grounded and meaningful Multiplayer engagements.
NAZI ZOMBIES
Call of Duty: WWII's co-operative Nazi Zombies mode unleashes a new and original story, in this nextlevel standalone game experience full of unexpected, adrenaline-pumping moments.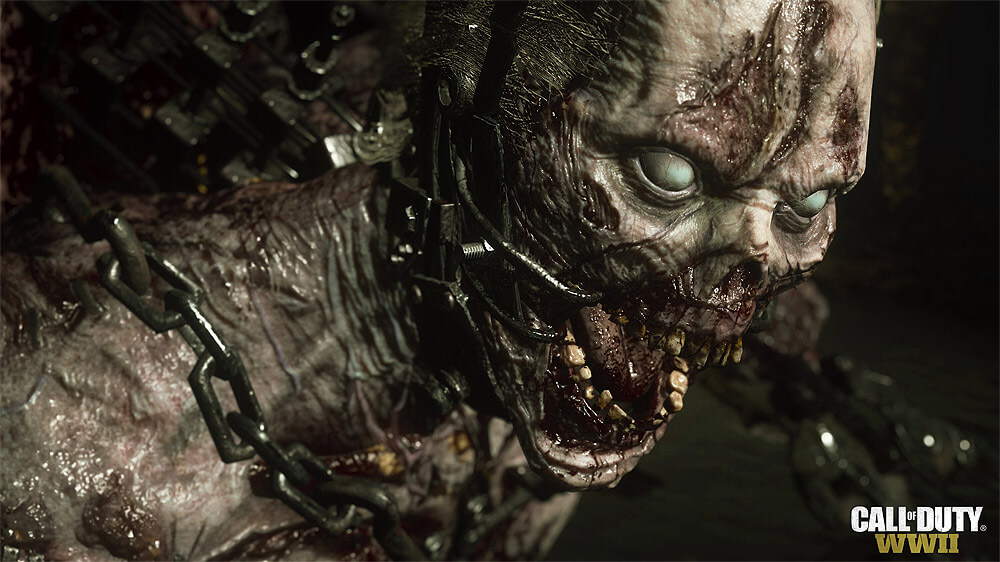 The publisher of the game is Activision.
Platforms: Xbox One, PlayStation 4 and PC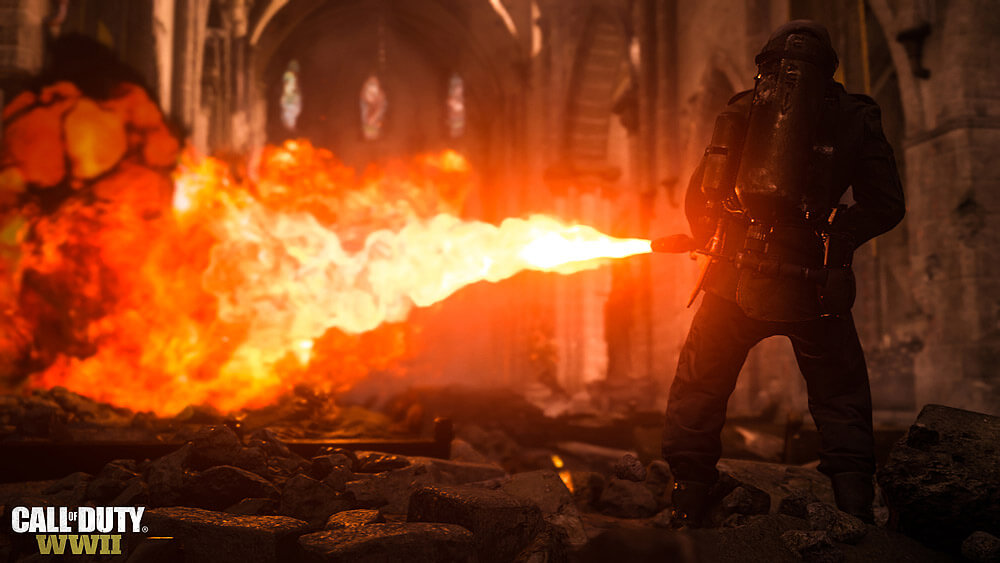 SYSTEM REQUIREMENTS
Supported OS:
Processor:
Memory:
Storage:
Video Card:
ATI® Radeon™ HD 7850 @ 2GB
DirectX:
Network:
Broadband Internet connection